When ordering the ham, do you know what you're getting? Hamish Boland-Rudder talks to Canberra growers about the confusion of free range.
Many of us have no idea where the Christmas ham, that great centrepiece of many a holiday table, comes from. Come Christmas Day, we turn up at the celebratory home, carting presents, something to drink and a salad, and the ham, in all its glory, glazed or unglazed, warm or cool, carving knife by its side, just appears.
But for the nominated hosts, the keepers of the festive spread, sourcing a good ham is no easy task. And for Canberra's butchers, sourcing a consistent supply of local, free-range, quality pork substantial enough to sustain the insatiable Christmas crowds can be near impossible.
I THINK MORE AND MORE PEOPLE ARE WANTING TO KNOW WHERE THEIR FOOD IS FROM. THEY WANT TO KNOW THE PROVINCE OR THE ORIGIN.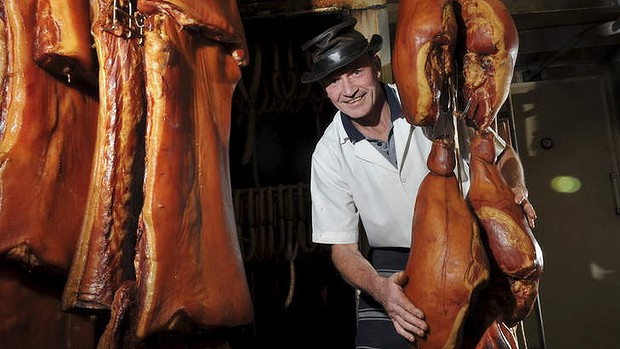 Richard Odell, who runs the Griffith Butchery and sources his meat direct from farmers, says people are after ham that is ethically raised and Australian. "I think more and more people are wanting to know where their food is from. They want to know the province or the origin, call it what you will, but people want to know how it's made and be confident with it," he says.
But pay close attention to the label. Odell and other local butchers warn against buying cheaper imported pork, which he says could be pumped with grain-based fillers to increase the weight of the ham, or farmed under lower standards than Australian pork.
But it goes further than local v imported. There are subtle messages on every label, and layers of meaning behind descriptions of the pork.
While Odell's Christmas hams are Australian and handmade in his shop with no gluten or additives beyond some brine and more than 18 hours of woodsmoke, his "free-range" pork is what's known as "born and bred free range". Which doesn't mean the pigs have lived their lives as free-range animals.
Odell gets his pork from Bundawarrah
at Temora, where farmer Stephen Roberts runs about 135 sows and has been in the pig industry for about 20 years. He is upfront about the term "born and bred free-range".
Sows have their litters out in the paddock, where the piglets are free to roam for the first three weeks of their lives. Then they are weaned and moved into "eco-shelters" – large sheds lined thick with straw, where the growing pigs are free to move about indoors away from the elements until they're ready for slaughter after a life of about four months.
At Griffith, Odell agrees that in the end it's all about the meat. When it comes to Christmas he will take home one of his big hams, which he makes to his liking – lightly flavoured with salt and woodsmoke.
"What are [customers] after? An experience, a good experience, because purchasing meat's not just going out and buying it," he says. "They're after the ability to impress."
And that means not only serving good meat, but also knowing exactly where that ham hails from.
Source: Goodfood