Bacon lovers reacting with near apocalyptic fervour to the World Health Organisation report into the cancer risks of red and processed meat do not need to fear a mass shutdown of Canberra's butchers.
One local butcher believes the report will actually benefit smaller operators, rather than harming sales. Meat eaters reacted with dismay to Tuesday's news that the World Health Organisation's International Agency for Research on Cancer found sufficient evidence to conclude processed meats were carcinogenic to humans, and "limited evidence" that red meat probably caused colon cancer. Griffith Butchery proprietor Richard Odell said the report would start conversations about the origin and production of the meat people bought, rather than turning them away from it altogether.
He said the spotlight would shine on mass production, over-processing, and factory farming, allowing smaller companies to differentiate themselves from the mainstream. "This makes it topical, and gives me an opportunity to air why our meat is so different and how it's grown," he said. "It'll help people understand that, sure, there are foods that aren't grown well, and they'll make us all sick at some point in time. "For us it's a more humane method of farming. A short shelf life for us isn't a problem because we have a really quick turnaround of stock. It doesn't need to have the extra processing."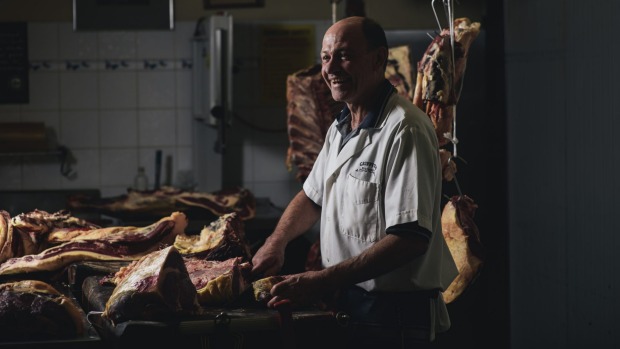 Mr Odell said he received very few concerned comments from customers, but the general public reaction reminded him of the E. coli food poisoning scandal in 1995, when people fell ill and one child died after eating Garibaldi smallgoods contaminated with the bacteria. "For us, it was the scenario of having a good product that meant our customers could trust in our products more than the run-of-the-mill production," he said. The WHO report, which has yet to be published in full, caused consternation among some readers because it grouped processed meats into the same category as tobacco, alcohol, and plutonium.
But the chairwoman of Cancer Council Australia's nutrition and physical activity committee stressed that the category grouped only materials found to be carcinogenic, and did not mean processed meats caused the same rates of cancer as the other items. "It's important to put the cancer risks associated with red and processed meat into context in terms of other preventable cancer causes," she said. "While Cancer Council's recent research found that red and processed meat accounted for around 2600 cancer cases each year, 11,500 cancer cases each year are caused by tobacco, 3900 cancer cases are attributable to obesity and being overweight and 3200 are attributable to alcohol." CSIRO Food and Nutrition research scientist Trevor Lockett said it was important to wait for the full report to be released before speculating on its findings, but recommended a maximum of seven serves of lean red meat a week be consumed to keep a healthy diet. "Red meat is a valuable source, not only of protein but also micronutrients, such as iron, zinc and vitamin B12." Canberrans could already be heeding the WHO report's message, given the rise of vegetarian and vegan cafes in Dickson and Braddon in recent years.
Read more: http://www.canberratimes.com.au/act-news/canberra-butchers-brush-off-fears-who-report-could-cut-bottom-lines-20151028-gkkkaa.html#ixzz3puTiopGI