FREE RANGE, PASTURE FED SPECIALIST BUTCHER CANBERRA
I HAVE BEEN IN BUSINESS WITH THE SAME FARMER SINCE 1990. BEING FREE RANGE AND GRASS FED WITHOUT HERBICIDES, PESTICIDES OR HORMONES, IS WHAT MAKES OUR BEEF AND LAMB LOCALLY AND ETHICALLY PRODUCED FOOD, BECOMING THE FUTURE OF THE INDUSTRY.
I grew up in Canberra but was born in Bega, New South Wales, making farming in my blood. I started butchering because it enabled me to leave school which I had no passion in.
Cleaning up two afternoons a week at a local butchery is where it all began. When I was 15, an apprenticeship came up so I decided to take this opportunity. I finished my apprenticeship in the early 1980's and in 1989 I opened Griffith Butchery and knew right from the beginning that people cared about what was in the food that they buy.
We do things in a traditional way. Our small goods are smoked on site as well as making our own pies and sausages, using natural ingredients. We also utilize the entire carcass of the beast to respect the animal's sacrifice.
Each day is different but every morning we set up the cabinet, break the beef and prepare the lambs. The amount of work that goes into taking out the bone and the fat of a 230-kilogram carcass to then cut the meat into steak size servings is remarkable.
One of my greatest challenges has been to learn how to think, not only as a butcher but also as a manager and entrepreneur. I am very proud of the apprentices that finish under me and putting the technical skill aside, they will know, especially my sons, how to run an honest and true business. All five of my children have worked in the shop; in saying this, having the family involved is magnificent.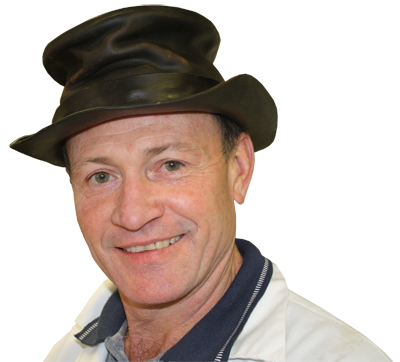 "EVERY CUT OF MEAT CAN BE TRACED BACK DIRECTLY TO OUT LOCAL BREEDERS AND PRODUCERS."